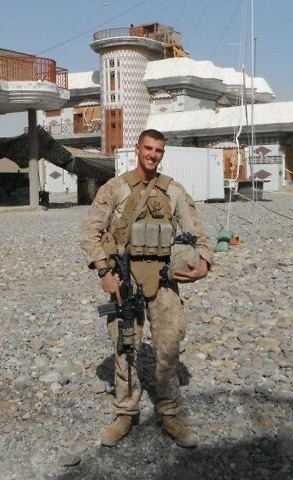 The Round Lake Area Exchange Club and sponsor, B.E.S.T, are proud to announce the February Hometown Hero, U.S. Marine Sergeant Ryan Nuccio, a Gurnee resident. He was registered for this honor by family friend, Kim Vander Yacht also of Gurnee.
Nuccio is a 2010 graduate from Warren Township High School. He is an Embassy Guard stationed in the Ivory Coast, Africa. Some of the honors bestowed on Nuccio are Afghanistan Campaign medals, NATO Medal, Marine Corps Good Conduct Medal and Navy Sea Service Deployment Ribbon.
With the generous support of this month's sponsor, B.E.S.T, Nuccio's "Hanging with the Heroes" care package will be filled with sunflower seeds, beef jerky, granola bars, cookies and snacks. Also included is a personalized "Hanging with the Heroes" t-shirt (donated by Artrageous of Hainesville), letters from Round Lake Area School District 116 students, a specially made rosary for the military from Legion of Mary from St. Joseph's in Round Lake and a piece of home. The Round Lake Area Exchange Club will present a plaque to his family at their annual membership drive breakfast on Wednesday, February 25, 7:30 a.m. at the Round Lake High School Main Gym/Theater entrance.
The Hometown Hero committee and club members want to thank Fokoz Creative Group of Grayslake for managing the Hometown Hero website that makes it possible to successfully run this program.
The Round Lake Area Exchange Club needs the community's help in getting our local heroes signed up. Any and all military personnel serving overseas or in the USA from any of the Round Lake Areas, Hainesville, Fox Lake, Ingleside or surrounding areas qualify for the program. You can register your loved ones by going to www.rlaexchange.org/hero, five minutes is all it takes. For more information visit the web site or you can contact the program chair Sherry Ridge at 847-740-2379.