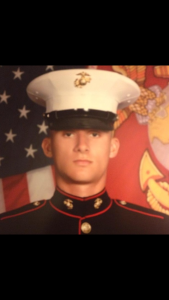 The Round Lake Area Exchange Club and sponsor, NICASA, are proud to announce the March Hometown Hero, U.S. Marine Lance Corporal Derek Horn, an 19 year resident of Trevor, Wisconsin. He was registered for this honor by his grandmother, Patricia Horn of Round Lake Beach.
Horn is a 2013 graduate from Wilmot High School. Currently he is aboard a Wasp-class amphibious assault ship docked in Malaysia. He is in the sniper training program and has been in the service for over a year and a half, stationed in Japan.
With the generous support of this month's sponsor, NICAS, Horn's "Hanging with the Heroes" care package will be filled with baby wipes, honey sticks, trail mix, beef jerky, power bars and other snacks. Also included is a personalized "Hanging with the Heroes" t-shirt (donated by Artrageous of Hainesville), letters from Round Lake Area School District 116 students, a specially made rosary for the military from Legion of Mary from St. Joseph's in Round Lake and a piece of home.The Hometown Hero website is managed by Fokoz Creative Group of Grayslake. The Round Lake Area Exchange Club will present a plaque to his family on Wednesday, March 25, at 7:30 a.m. Panera Bread in Round Lake Beach.
The Round Lake Area Exchange Club needs your help in getting our local heroes signed up. Any and all military personnel serving overseas or in the USA from any of the Round Lake Areas, Hainesville, Fox Lake, Ingleside or surrounding areas qualify for the program. You can register your loved ones by going to www.rlaexchange.org/hero, five minutes is all it takes. For more information visit the web site or you can contact the program chair Sherry Ridge at 847-740-2379.