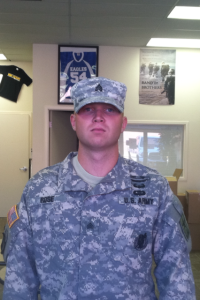 The Round Lake Area Exchange Club and sponsor Robert Frank of Robert E. Frank Real Estate, Inc. are proud to announce the July Hometown Hero; U.S. Army Sergeant Andrew Rose of Lake Villa.
Rose was registered for this honor by Sergeant First Class Julius Frazier of Round Lake Beach.
Rose is currently serving as a recruiter with the Round Lake Beach Recruiting Station. He was recently stationed at Fort Campbell, Kentucky home of the only Air Assault Division in the world, the 101st Airborne Division. Rose is the recipient of many honors and medals, including a Purple Heart, two Arcoms, two Oversees ribbons, Expert Infantry badge, Combat Infantry badge, Air Assault badge, Airborne badge, NCO Schools medal and more.
Hometown Hero Project Chair, Sherry Ridge shared "Sergeant Rose's Hanging with the Heroes care package will be a little different then one's we have to mail out, we will make sure that he receives a gift card to a favorite local establishment." All "Hanging with the Heroes" care packages are delivered with a personalized "Hanging with the Heroes" t-shirt (donated by Artrageous of Hainesville), a piece home and letters from Round Lake Area School District 116 students. The Round Lake Area Exchange Club will present a plaque and his package to him and his fellow soldiers on Wednesday, July 25 at 7:30 a.m. at Panera Bread in Round Lake Beach.
Any and all military personnel serving overseas or in the USA from any of the Round Lake Areas, Hainesville, Fox Lake or Ingleside qualify for the program. If you have a neighbor, family member, friend, employee, employer, etc. serving in the military please register them by going to
www.rlaexchange.org/hero
, five minutes is all it takes. We look forward to announcing the September Hometown Hero. For more information visit the web site or you can contact Sherry Ridge at 847-740-2379.