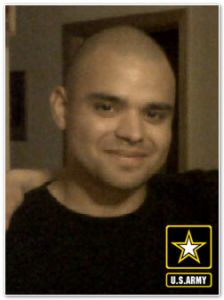 The Round Lake Area Exchange Club is pleased to announce that U.S. Army Specialist Naul Conejo is the Hometown Hero for December. Naul is a graduate from Round Lake High School and resident of the Village of Round Lake Beach.
He was registered by his friend Reverend Ricky Bueno of Round Lake Heights. Reverend Bueno shared with the Club's Americanism Hometown Hero Project Chair, Sherry Ridge, "Naul has received many honors and medals during the time he has served our country such as the Army Achievement Medal, Good Conduct Medal, Iraqi service medals, NCO Service Medals and others." Specialist Conejo entered the Army in January of 2007 and is currently stationed at Joint Base Lewis-McChord in Washington State. He is a member of New Hope Christian Community Church and has volunteered with Reverend Bueno at Frontline Street Intervention, a gang outreach organization.
His "Hanging with the Heroes" care package will be filled with beef jerky, peanut butter snacks, protein bars as well as his personalized "Hanging with the Heroes" shirt and letters from Round Lake Area School District 116 students. He is the RLA Exchange Club's third Hero. Ridge said "Thanks to our December sponsor ACE Hardware Round Lake, we will be able send Specialist Conejo a special request of a ESV Study Bible."
The Club will present Reverend Bueno with a plaque on behalf of Specialist Conejo at their December 22, meeting. The meeting is held at Panera Bread, 7:30 a.m.
Any and all military personnel serving overseas or in the USA from any of the Round Lake Areas, Hainesville, Fox Lake or Ingleside qualify for the program. Five minutes is all it takes to get them registered. If you have a neighbor, family member, friend, employee, employer, etc. serving in the military please register them by going to www.rlaexchange.org/hero. We look forward to announcing the December Hometown Hero.
For more information click here or contact Sherry Ridge at 847-740-2379.
DECEMBER 2010 SPONSOR