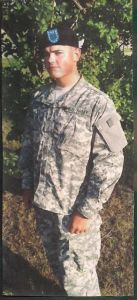 The Round Lake Area Exchange Club along with sponsor Mano a Mano Family Resource Center are proud to announce the April Hometown Hero; U.S. Army Specialist Devin McAdams, a Wauconda resident and 2009 graduate of Warren Township High School. McAdams was registered for this honor by his mother, Nada Lunsford, of Spring Grove. He is currently deployed in Kuwait working as a Wheeled Vehicle Mechanic.
Lunsford shared with Hometown Hero Project Chair, Sherry Ridge,"Devin joined to serve his country, fight for something bigger than himself and the sense of accomplishment." She is eager for him to be back in the states late fall. McAdams "Hanging with the Heroes" care package will be filled with beef jerky, brownies, snacks and DVD movies. All "Hanging with the Heroes" care packages are delivered with a personalized "Hanging with the Heroes" t-shirt (donated by Artrageous of Hainesville), a piece home and letters from Round Lake Area School District 116 students. Postage for sending the care package is covered from a donation to the Hometown Hero project made by Avon Township.
The Club presented a plaque on behalf of the April Hometown Hero to his family at their meeting on April 25.