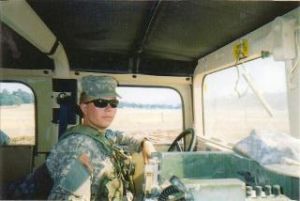 The Round Lake Area Exchange Club Hometown Hero Committee is honored to announce U.S. Army SPC Douglas Elliott as the April hero. This month's sponsor is Mano a Mano Family Resource Center.
Douglas was registered at the Clubs site, www.rlaexchange.org/hero, by his Aunt, Roxanne Kainz, of Round Lake Beach. Douglas is a 2007 graduate from Round Lake Senior High School. He has been serving our country in the U.S. Army for two and half years. He is an Engineering Specialist currently serving in Afghanistan.
"His family is very proud of him and are honored that Douglas is our April Hometown Hero," according to Sherry Ridge, the Hometown Hero Project Chair. Many family members will be present when the Club presents his plaque.
The committee will be filling his "Hanging with the Heroes" care packages with summer sausage, crackers, tootsie rolls, and skittles along with a personalized "Hanging with the Heroes" t-shirt and letters from Round Lake Area School District 116 students. Every month we send an awesome "Hanging with the Heroes" t-shirt that was created and donated by John Tomusiak owner of Artrageous in Hainseville.
The Club will present a plaque on behalf of the April Hometown Hero at their April 27, meeting. The meeting is held at Panera Bread in Round Lake Beach, 7:30 a.m.
Any and all military personnel serving overseas or in the USA from any of the Round Lake Areas, Hainesville, Fox Lake or Ingleside qualify for the program. Five minutes will get them registered. If you have a neighbor, family member, friend, employee, employer, etc. serving in the military please register them by going to www.rlaexchange.org/hero. We look forward to announcing the May Hometown Hero. For more information visit the web site or you can contact Sherry Ridge at 847-740-2379.