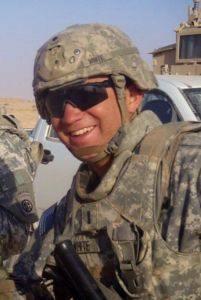 The Round Lake Area Exchange Club and sponsor, Collision Solutions, are proud to announce U.S. Army Captain Trevor White as the May hometown hero. He is a Grayslake resident, 2005 graduate of Grayslake Central High School, holds a Bachelor Degree in Humanities from the United States Air Force Academy, and was commissioned into the U.S. Army in 2009. He was registered for this honor by family friend, Pamela Oster of Gurnee.
White has earned many medals and awards during his time of service, some of those are; Army Commendation Medal, National Defense Service Medal, Iraq Campaign Medal, Afghanistan Campaign Medal, Air Force Training Ribbon, Special Operations Command and 82nd Airborne Division. His family is very humble, his mom, Karen White, a member of the Grayslake Exchange Club is a retired U.S. Army Major.
With the generous support of this month's sponsor, Collision Solutions, White's "Hanging with the Heroes" care package will be filled with snacks, chips, and other goodies. Also in the package will be a personalized "Hanging with the Heroes" t-shirt (donated by Artrageous of Hainesville), a piece of home and letters from Round Lake Area School District 116 students. Heroes also receive from Legion of Mary from St. Joseph's in Round Lake a specially made rosary for the military. The Round Lake Area Exchange Club will present a plaque to his family on Wednesday, May 28, at 7:30 a.m. Panera Bread in Round Lake Beach.
If you have a neighbor, family member, friend, employee, employer, etc. serving in the military please register them by going to www.rlaexchange.org/hero, five minutes is all it takes. Any and all military personnel serving overseas or in the USA from any of the Round Lake Areas, Hainesville, Fox Lake, Ingleside or surrounding areas qualify for the program. We look forward to announcing the June Hometown Hero and need the communities help in promoting and getting our local heroes registered. For more information visit the web site or you can contact Sherry Ridge at 847-740-2379.